Hello girls! I've been feeling pretty ill this week so I've been spending a lot of time in bed on the computer, which has meant a lot of online window shopping! This time I thought I'd show you the bits that I'm currently loving which are new in on the River Island site.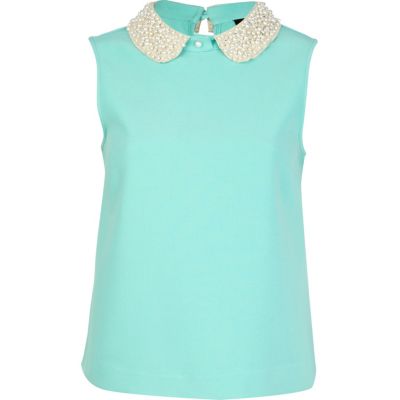 Turquoise Pearl Collar Tank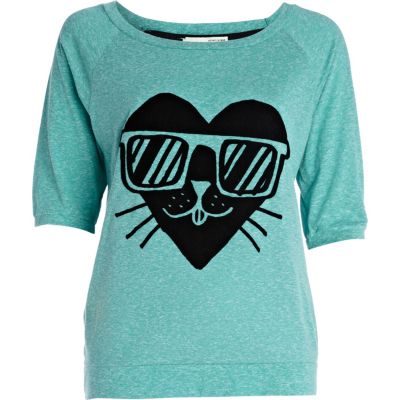 Green Heart Cat Print Top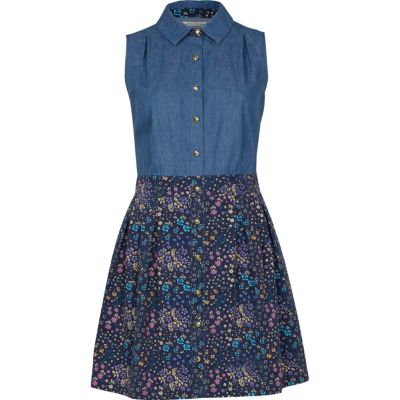 Denim Floral Print Skater Dress
1) I've been looking for a plain black skater skirt for a wee while and as soon as I opened up the site this popped up-could it be fate?
2) I love a top with an embellished collar and I really really like the colour of this one, perfect for summer! I think it would look great with a pair of denim shorts and some flip flops.
3) I don't think I need to say anything about this one. If you've read my blog before you'll know how much I love animals on my clothes! IT IS A CAT WEARING SUNGLASSES!
4) I think this dress is so pretty, I love the lace detail on it and the colour is one I don't have in my wardrobe so I'd love to add it to my other dresses. The skater dress is a perfect style for me as well, makes my waist looks small and hides my big bum!
5) Speaking of perfect skater dresses-I love this one. I think the floral print skirt is very cute but I particularly like the denim, I've not seen a dress like this before I don't think.
6) Last but not least I feel like I need to include the very on trend scarf print in my wishlist. This blazer is a bit out there for me, but I think it would look great with a top and pair of jeans or maybe a block colour dress.
What do you think about the current River Island stock? Have any of you bought anything from there recently? Would love to see a link!