Now I am a massive sucker for a gimmick, which is how I've ended up buying colour change lipglosses, light up lipsticks and other pretty pointless things in the past. So when I walked past the Bourjois stand in my local Boots recently and out of the corner of my eye saw an advert for teeth-whitening lipgloss...well, my purse didn't stand a chance.
It is actually called Bourjois Smile Enhancing Lipgloss, and I purchased mine in Raspberry, but it comes in a variety of other colours. There are two ends to the gloss, one which you paint on to your teeth which has a lovely minty taste and smell and is supposedly suffused with brightening agents, and the actual gloss, which has blue based pigments in to give the illusion of whiter teeth.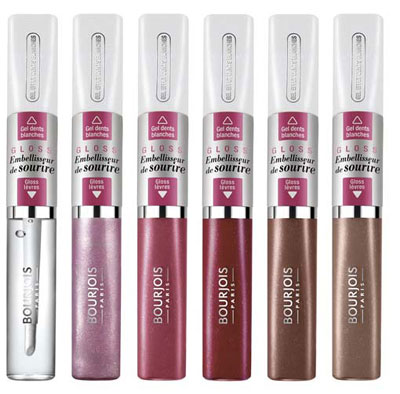 So, what do I think about it? Well the tooth paste bit tastes and smells lovely, and when I wear the gloss it does seem to make my teeth seem whiter, although I don't know whether I'd think the same with one of the less bright gloss colours. However, you are advised to wear it everyday to see a real difference which I haven't done...
If you wanted to try it, I'd advise you to get it in raspberry or strawberry purely because the colour of the gloss is lovely on its own, but don't expect dentist level improvements in your smile.